Experience: Seven years as art director in industrial advertising and over twenty years as an independent illustrator. Experienced in most phases of commercial art production and accustomed to working closely with engineers, designers and executives on site and in the studio for detailed research and image data. Works have appeared in award-winning ads, books and publications for aerospace, electronics, fiber optics, data cables, computer components, software, automotive, industrial air conditioning and related industries. Fine art works have appeared in nationally published books and magazines such as: American Artist, AV Video, Videography, Future (gallery section), Click, Computers and Their Applications (cover), Getting Started in Computer Graphics, Business North Carolina (cover), The Ballooning Journal (cover) and others. Extensive experience with real air brush and computer generated air brush effects.
Clients: Advertising agencies and personal accounts representing Harris Semiconductor, Union Carbide, Nucor Steel, Duff Norton, Computer Products, Phillips, Kodel, AVX, MACOM, CommScope, Pneumafil, Rotary, Thomas Bus, Dunham, Poulan, Velux and others.
Awards: BPAA top 10 in publications such as: EDN (Electronic Design News), EET (Electronic Engineering Times), Distribution Magazine, International Raster Technologies Computer Image Competition with exhibition at the California Museum of Science and Industry in Los Angeles.
Personal: My objective is to make my clients look their best with emphasis on diversity, efficiency and excellence at a fair price. Solving image communication problems is one of my many goals in producing award-winning imagery. I believe that we are witnessing a new and global shift in awareness of creative expression, especially in the dynamic spirit of human development, the dimensions of which are only beginning to be discovered and appreciated.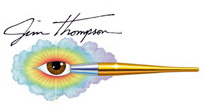 Home •• Portfolios •• Categories •• Info •• On Tech Art •• Background •• Contact
See Fine Art Site at art-mind-soul.com